And Today is Another Day
I was driving Baby Girl to the pediatrician today to find out why she's still wheezing and coughing. It's a beautiful day so I roll down the window. My arm is on the window as BG and I sing along to the radio.
Suddenly, something hits my arm hard. It feels like someone just threw a rock at me. I look down at my arm...and sitting there? The biggest bird crap I have ever seen in my life!
Not to get too graphic, but, if you weren't paying attention, let me repeat - it was big enough and hard enough that I thought...a...rock...had..hit..my...arm.
Ugh.
What the hell was it? A roc? A pterodactyl?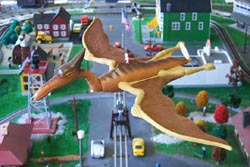 That bird should see a specialist.
Seriously disgusting.
Thank god I was wearing a long-sleeve shirt. And that I had napkins in the car. But I still had to go to the pediatrician's office with a giant stain on my arm.
While we were there, they decided to give Baby Girl a breathing treatment to see if the wheezing was asthma. If it was, the treatment would help. If not, well, it wouldn't hurt. Apparently, that was a matter of opinion. Let me try to describe what this was like for you.
You know how, in movies, the villain would take a rag soaked in chloroform and hold it against someone's nose and mouth while they scream and try to yank his arm away.
Yep, that's what it was like, only with a really pissed off toddler.
I had to hold the mask against BG's face while she kicked and cried and screamed bloody murder. She didn't care about the cute little fishy face on the mask or my attempts at singing. She wanted that damn thing off and now!
It made me really sympathize with moms who have to give treatments all the time. I hope I never have to do that again.
After it, BG seemed better although I'm not sure if it was from the treatment or the snot being cleared out during the crying fit.
Luckily, she doesn't appear to have asthma. Now, we've got a supply of allergy/cold medicine to try. I'm just praying it doesn't make her totally hyper since we'll be boarding a plane to Dallas tomorrow.
Just her and I.
Three hours of fun in a tight, contained space.
Whoo-hoo!